News
MONDAY MEDITATION GOOD MORNING TO ALL.... START THE WEEK WITH BLESSINGS FROM ABOVE. ALMIGHTY GOD OUR HEAVENLY FATHER, YOUR GENEROUS GOODNESS COMES TO US NEW EVERY DAY. BY THE WORK OF THE HOLY SPIRIT, LEAD US TO ACKNOWLEDGE YOUR GOODNESS, WE GIVE THANKS FOR YOUR BENEFITS, AND SERVE YOU IN WILLING OBEDIENCE, THROUGH JESUS CHRIST, OUR SAVIOR AND LORD. AMEN. Love Fr. John. Have a blessed day and week...... Make the sign of the Cross every morning to start the day, and end the day with the cross... MONDAY EVENING MEDITATION A GOOD NIGHTS SLEEP TO ALL;MERCIFUL CREATOR, YOU SAW US THROUGH THIS DAY WITH ITS DIFFICULTIES, WHILE ALSO GRANTING US BLESSINGS. FOR THIS WE THANK YOU. WE REMEMBER OTHERS AROUND THE WORLD WHO SUFFER FROM NATURAL CALAMITIES. HAVE MERCY, O LORD. WE REMEMBER THAT OUR LORD JESUS CHRIST EMPTIED HIMSELF, BECAME A SERVANT AND GAVE ALL, EVEN HIS LIFE FOR US. HELP US TO SPREAD UNIVERSAL LOVE. GIVE A PEACEFUL NIGHT OF REST. BLESS OUR CHILDREN, WATCH OVER THEM AND SEND THE ANGELS TO PROTECT THEM. LOVE FR. JOHN. PARISHIONERS HAVE BEEN ASKING IF CONFESSION ARE THIS SAT. YES, FROM 10:30 TO 11:30, SUN. FROM 9 TO 9:45.
GOOD MORNING TO ALL JESUS SAID, "I AM THE LIGHT OF THE WORLD, THOSE WHO WALK WITH ME, WILL NEVER WALK IN DARKNESS." YES, IT IS TRUE....WALK IN THE LIGHT OF FAITH, WALK WITH THE LORD TODAY, SUNDAY, AND COME TO LITURGY, Love Fr. John. NOTE....ALMOST 200 HAVE SIGNED UP TO COME TO FR. & PANI' S RETIREMENT DINNER NEXT SUNDAY, IF YOU WISH TO COME SEE YVONNE OR MEGAN TODAY AT COFFEE HOUR....A FEW SPACES LEFT. CHILDREN UNDER 18, FREE... GOOD DAY FOR SUNDAY SCHOOL START HI BELOVED PEOPLE TODAY WAS A WONDERFUL DAY CREATED BY GOD....THE WEATHER WAS PERFECT TO DO ANYTHING OUTSIDE....OFF THANKS TO THE CREATOR; TODAY AT HOLY GHOST WAS THE START OF THE 81ST YEAR OF SUNDAY SCHOOL. MANY PARENTS BROUGHT THEIR CHILDREN, AND SOME DID NOT COME, BECAUSE THEY ARE AWAY ON THE WEEKEND FOR COLUMBUS DAY. NEXT SUNDAY LITURGY AT 10 AM....AND BACK TO SUNDAY SCHOOL ON OCT. 21....UNTIL 11:15, LUNCH AT SOCIAL CENTER, GAMES AND OFF TO THE PUMPKIN FARM, HAYRIDE....FILL OUT THE FORM IN THE BULLETIN OR CALL TRACEY....484-995-0979...THANKS.
A BEAUTIFUL EVENING PRAYER FOR ALL... A BEAUTIFUL EVENING PRAYER.....WE GIVE THANKS TO YOU, HEAVENLY FATHER, THROUGH JESUS CHRIST YOUR DEAR SON, THAT YOU HAVE THIS DAY SO GRACIOUSLY PROTECTED US. WE BEG YOU TO FORGIVE ALL OUR SINS. BY YOUR GREAT MERCY DEFEND US FROM ALL DANGERS OF THE NIGHT. INTO YOUR HANDS WE COMMEND OUR SOULS AND OUR BODIES. LET YOUR HOLY ANGELS HAVE CHARGE OVER US, AND THE HOLY ANGELS WATCH OVER OUR CHILDREN. WE THANK YOU FOR THE BLESSINGS THIS DAY. AMEN. Love Fr. John SEE YOU AT LITURGY AND SUNDAY SCHOOL.....
A GOOD FRIDAY TO ALL.... EVENING MEDITATION, TO PREPARE US FOR THE WEEKEND AND TO WORSHIP ON SUNDAY. GRACIOUS AND HOLY GOD, GIVE US DILIGENCE TO SEEK YOU, WISDOM TO PERCEIVE YOU, AND PATIENCE TO WAIT FOR YOU. GRANT US, O GOD, A MIND TO MEDITATE ON YOU; EYES TO BEHOLD YOU; EARS TO LISTEN FOR YOUR WORDS; A HEART TO LOVE YOU' A LIFE TO PROCLAIM YOU; THROUGH THE POWER OF THE SPIRIT OF JESUS CHRIST, OUR SAVIOR AND LORD, AMEN. Love Fr. John...... DEAR PARENTS....GOD LOVES ALL CHILDREN AND YOUR DEAR CHILDREN...GOD THE SON DIED FOR US ALL.... AND GOD THE FATHER WANTS US, ESPECIALLY LITTLE CHILDREN TO LOVE HIM, HONOR HIM AND LEARN ABOUT HIM... SO PARENTS LISTEN TO THE VOICE OF THE FATHER TALKING TO US.... COME AND LEARN ABOUT MY SON.... SEE YOU SUNDAY.
Thursday meditation...... voca​tion... HI BELOVED CHRISTIAN PEOPLE...YOU ARE THE BEST....AND GOD KNOWS IT...THANK HIM ALWAYS.... THURSDAY MEDITATION.... ALMIGHTY GOD, YOU HAVE BLESSED EACH OF US WITH UNIQUE GIFTS, AND YOU HAVE CALLED US TO SPECIFIC OCCUPATIONS, RELATIONSHIPS, AND ACTIVITIES USING THOSE GIFTS. ENABLE US TO USE THOSE TALENTS TO WITNESS TO OUR FAITH IN YOU AND TO COMMUNICATE YOUR LOVE TO THE PEOPLE WE MEET EACH DAY. EMPOWER US TO BE MINISTERS OF YOUR RECONCILIATION, LOVE, HOPE, AND JUSTICE. KEEP US STEADFAST IN OUR COMMITMENT TO SERVE ACTIVELY IN YOUR NAME; THROUGH JESUS CHRIST OUR LORD, AMEN. Love Fr. John. May The Lord bless all of you, and your beautiful children, and grandchildren....
Showing 1 - 5 of 5 Articles | Page 1 of 1
Prayer Corner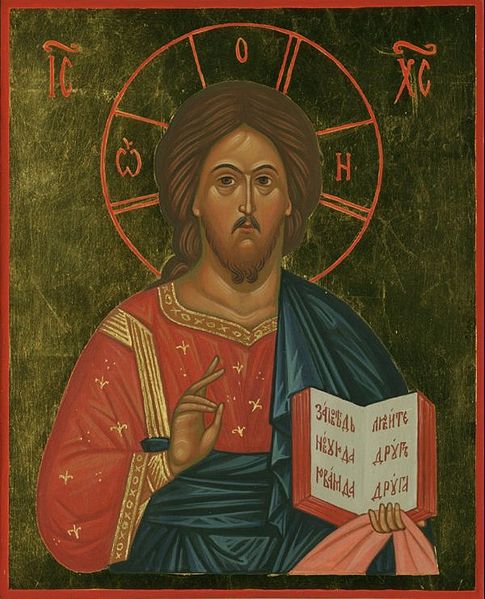 Listen To The Lives Of The Saints Commemorated Today
Visit the Prayer Corner for more daily readings, hymns, a monthly calendar of saints and feasts, and more.
---